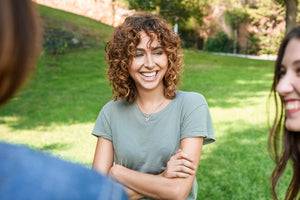 Learning to properly take care of your curls can be so overwhelming but it doesn't have to be. I'm here to help you!
Click Here to Learn More About Me
This one-on-one virtual appointment will help you with:
How to choose products for your hair

What all those ingredients mean

How to correctly use products for best results

What to look for on labels - to use or to avoid

What techniques will help you achieve your curl goals

Correct product amounts to use

How to have consistently successful wash days

Dry refreshing

Decoding all those curly terms

Anything else you need help with
Your needs and questions really influence the direction of our session so that it's fully personalized.
Includes a recording of our virtual chat for you to keep and a PDF of our New Perfect Curl Instructions.
Option 1 - Curl Conference
A 60 Minute Session
This is the perfect choice for you if you're new to caring for your waves, curls, or coils, have been trying to take care of them for a while and just feel lost, or really want a personalized simplified curl care routine.
This is the perfect choice for you if you have been practising proper curl care for at least a year and need some troubleshooting, want product recommendations only, or have seen a curl specialist for an in person appointment and just need a review/refresher.
Not sure which option to choose? Just ask me!
erin@curlboutique.ca
All time ranges listed are EDT.